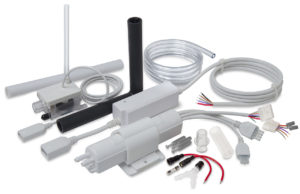 RectorSeal® LLC, Houston, a manufacturer and distributor of quality HVAC/R products, a wholly-owned subsidiary of CSWI Inc.[Nasdaq:CSWI], introduces Ghost™, one of the HVAC/R industry's quietest-running ductless mini-split condensate pumps that can be integrated with an optional safety cutoff switch for unprecedented overflow protection. The Ghost product line includes the Ghost Internal and Ghost Access (externally-mounted) models available worldwide except for North America.
The Ghost Internal and Ghost Access have a CE marking and are UL-recognized high performance pumps designed for ductless mini-splits up to 54,000-BTU/hr or 15.97-kW. They attenuate operating sounds and vibration to 21dB level (ticking watch level) and 30-dB levels (whisper level) at one-meter respectively. The quiet operation is due to advanced diaphragm pump technology versus pistons, and fully-potted microelectronics. The variable speed motors in molded plastic encapsulations run automatically at the quietest, lowest rpms depending on reservoir condensate levels. The pump's high discharge pressure design eliminates the need for anti-siphoning devices.
The Ghosts' built-in compatibility and integration with a Safe-T-Switch Model SS610E is an industry-first. The switch is an International Mechanical Code (IMC)-compliant safety cutoff switch designed specifically for preventing property-damaging condensate pan overflow on ductless mini-splits. The integrated SS610E redundantly senses rising water in the drain pan or via integration with the pump reservoir's float switch and cuts off the unit's power until the blockage is removed. Each Ghost has a pigtail plug-and-play for quick connection with the SS610E, which has a microelectronic sensor to clip onto a drain pan or coil. The SS610E reports to an LED indicator that can be surface-mounted for quick diagnostics.
Ghost models are designed for quick installation equal to or faster than competing brands. Plug-and-play pigtail electrical/communication connections expedite wiring once the leads are connected to the ductless mini-split control panel. Ghost Internal, consisting of a power supply, reservoir and pump, is ideal in the evaporator drain pan, however its slim, compact design allows installation inside a lineset cover or above a false ceiling. Ghost Access combines the three components into a self-contained molded plastic housing designed for securing to the ductless mini-split exterior surface for easy service and maintenance access.
The Ghosts' univolt, self-modulating electronics board is compatible in any country, because it allows pumps to accept voltage inputs from 100 to 250V. Damage from voltage variances, brownouts and other utility power inconsistencies are mitigated with Ghost Access's built-in surge protection circuitry and Ghost Internal's automatic recovery fuse.
Other Ghost features are:
Included condensate pipe adaptor and elbow saves time searching for or jerry-rigging a transition to the drain line;
Three-year limited warranty;
Ghost Internal's compact dimensions are: power adapter–108 x 32 x 38-mm; pump module–152 x 32 x 38-mm; and reservoir–63 x 38 x 38-mm. Ghost Access is 330 x 70 x 57-mm and has a reversible design for either side of the evaporator;
Kits included all required accessories for installation, including the Ghost Internal's rubber pump mount that's installed with double-sided tape, screws or zip ties;
Cleanable metal filter is constructed of a biocide silver-coating;
Recommended maximum head is 15.2-meters; and 1.52-meter suction lift;
Developed and manufactured in-house for optimum quality control.
Ghost will be available at international HVAC/R trade wholesale distributors in 2020's third quarter.
For more information on Ghost or other RectorSeal HVAC/R, plumbing, firestop and electrical products, international customers can contact www.rectorseal.com or +1 713-263-8001; and Australian customers can contact www.rectorseal.com.au or +07 3267 7277 for customer and technical support.