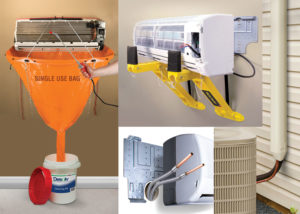 RectorSeal® Australia's imports are headlined by award-winning Mighty Bracket minisplit evaporator installation support tool & other A/C products.
Installing and servicing ductless minisplit air conditioners and other HVAC systems just became quicker, easier and more profitable for Australian contractors, thanks to dozens of newly-imported tools and accessories available Nov. 1 at all Australian/NZ HVAC/R wholesalers.
The products are imported by RectorSeal® Australia Pty. Ltd., Brisbane, the Australian national distributor of U.S.-based HVAC/R and plumbing product manufacturer RectorSeal Corp.  RectorSeal® Corp's Evo-Crete™ and PolySlab™ HVAC/R brand acquisition from Evolve Group, Brisbane, last year established its Australian/NZ market foothold. RectorSeal Australia's next phase is now the importation of selected products from its 78-year-old parent company's 350-sku product line.
While dozens of the imported products are commodity items such as RectorSeal Corp's world-renowned pipe sealants, fluxes, compressor acid detectors and acid eliminators, minisplit accessories and system cleaning agents, the list is headlined by:
Mighty Bracket–The world's first ductless minisplit a/c evaporator support tool and a Gold Medal winner of the Air Conditioning Heating & Refrigeration News Magazine's 2015 Design Awards competition judged by contractors.
Desolv™ Cleaning Kit–The industry's quickest and most convenient wrap-around, property-protecting kit for the cleaning and post clean-up of all ductless minisplit air conditioner evaporator coils and blower fan blades.
NoKink™–the HVAC industry's first flexible, non-kinking refrigerant line connector for quick, easy and more reliable refrigerant lineset connections to wall and ceiling-mounted minisplit evaporators.
Fortress™— a complete, aesthetic and easy-to-install line of PVC-constructed protection duct and fittings for air conditioning linesets featuring UV and weather resistant surfaces.
    For more information on RectorSeal® Australia, please contact customer and technical support departments at P.O. Box 3119, Contra DC QLD 4019, +61-7-3284-1114, sales@rectorseal.com.au