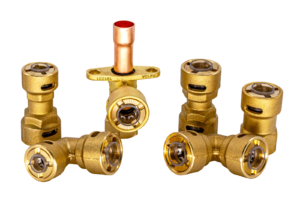 Put away your torch and flaring tool during your next HVAC system installation.
Instead, use PRO-Fit™ Quick Connect push-to-connect fittings to efficiently connect copper and coated aluminum linesets for unitary and ductless HVAC units. Because no brazing or flaring is needed, HVAC refrigerant lines can be Preview Changes (opens in a new tab)securely connected in various environments saving you time and money. Refrigerant leaks can be a painful situation during an installation that offers limited installation space, hard-to-reach linesets, and installations where it's challenging to braze and flare. Why take a risk brazing and flaring when PRO-Fit connections make the task faster, easier, and equally secure? Every time you light you're your torch is an opportunity for a refrigerant leak to develop.  Often, one that you won't discover until you are pulling a vacuum on the system.
When properly installed, PRO-Fit fittings provide a unique, leak-proof sealed connection. The double O-ring sealing design creates a secure high-pressure gas seal that helps prevent connection leaks caused by galling, vibration, pulsation, and extreme temperature changes that can affect HVAC linesets up to 870 psi (60 bar).
Getting a secure connection is easy, thanks to the sight window on each fitting. To use, simply push the fitting into the correspondingly sized lineset, and relax.  PRO-Fit is a complete system offering a wide selection of sizes and configurations to provide an installation that makes you proud and your customers happy.
The robust, brass body, high tensile strength connectors are reliable, impact-resistant, and UV resistant.  PRO-Fit fittings are available in a wide variety of sizes, and all are compatible with major HVAC refrigerants, including R-22, R410A, R32, and R404A.  PRO-Fit fittings are designed for single-use and offer a quick-release removal when needed.
PRO-Fit Quick Connect fittings are UL listed and backed by a 5-year limited warranty.  They are recommended and approved for residential use, coated aluminum linesets, ductless, and unitary indoor coils.  With PRO-Fit connections, you can eliminate your torch, flammable gas, flaring tools, and more.
When time is money, use PRO-Fit Quick Connect fittings.  You'll be happy all the way to the bank.